Welcome back for another busy and exciting school year! My hope is that you feel rested, recharged and ready to be a part of the fun energy, the positive challenges, and everything else in between that comes with life at an APPLE school community.
Our staff has been working diligently to prepare for the year ahead, which we all know comes with a lot of question marks. We have been seeking innovative ways to support learning and wellness in schools during these uncertain and turbulent times.
We know that the last 18 months have not been conducive to our physical and mental health, and that we are not out of the woods yet with COVID-19. But we are here now more than ever before to support APPLE school communities to be healthy, safe, and positive spaces for students, staff, and families to thrive.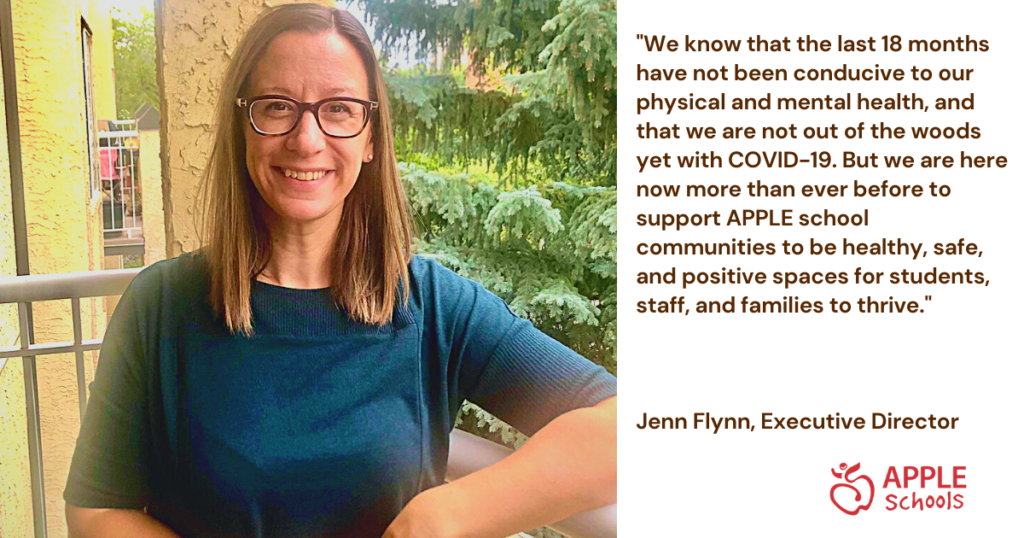 The APPLE team is recharged and ready to set each and every APPLE community up for success! We will continue to provide customized guidance, share new and exciting research coming down the pipe, and apply new evidence to our approach to ensure efficacy.
Most of all, we look forward to the day when we can all connect in person once again when it's safe to do so.
Until then, we are here and ready to support, solve problems, and most importantly, infuse some fun into being a healthy community – have a happy and healthy school year!
Jenn Flynn
Executive Director