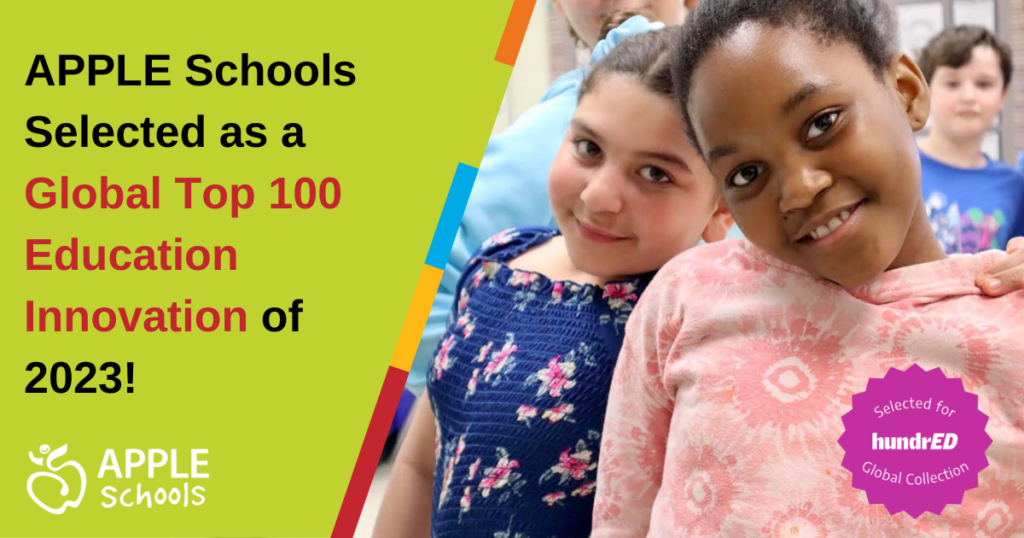 The APPLE team is thrilled to announce that APPLE Schools has been selected by HundrED as a top 100 global education innovation of 2023 for its proven impact on almost 30,000 vulnerable students each year!
APPLE Schools was chosen from more than 3,000 international innovations due to its innovative expertise and ability to create a scalable impact while helping kids flourish.
This is the second time we are celebrating this achievement, as we were selected in 2020 as well.
This year, HundrED focused on identifying organizations that are changing the face of education in a post-pandemic world, developing 21st century skills including social and emotional learning; and increasing focus on student wellbeing and mental health.
Recent research on mental health effects from pandemic lockdowns and unfavourable physical activity data highlighted the need to equip students with the tools and knowledge for resilience. Through the challenges of the pandemic, APPLE Schools proved to be an effective model for supporting student wellness and resilience during challenging times.
This prestigious acknowledgment will help amplify our project to more deserving students across Canada, and maybe globally one day.
To the students, teachers, administrators, parents, and donors of APPLE school communities – thank you! You have all greatly contributed to this recognition and without your efforts, we would not be celebrating right now!
Thank you from everyone on our team.
Check out the 100 global innovations, or visit the HundrED website.
If you want to support our project, your donation will directly impact students in vulnerable school communities. Donate today.